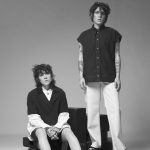 We're thrilled to welcome Tegan and Sara as part of their Not Tonight Tour to Deerhurst Resort on March 31, 2024!
With Special Guest Becca Mancari
Over the past twenty five years, this iconic Canadian duo has sold well over one million records, received numerous awards and nominations and recorded an incredible catalogue of hits including the pop juggernaut "Closer".
The Not Tonight tour is a contoured acoustic storytelling evening showcasing the 2002 album "If It Was You," as well as an additional set of their most beloved songs. Audience members can expect an intimate night of music and storytelling.

HfA Member & Artist Presale: Wednesday September 6th @ 10am. Members purhase by calling 705-788-2787
Spotify Presale: Thursday September 7th @ 10am
Public On Sale: Friday September 8th @ 10am