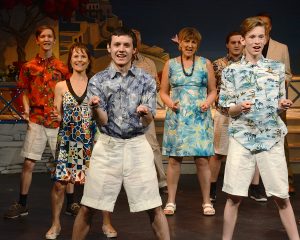 Calling All Directors!
Submissions Open for the 2020 Spring Musical
The Huntsville Festival of the Arts and the Rotary Club of Huntsville invite applications from Directors for their annual Community Theatre Musical taking place April 16-26, 2020.
CLICK HERE FOR THE APPLICATION
Now in its 12th year, the annual Spring Musical is an opportunity for community members from Muskoka and surrounding areas to make connections with others, develop their theatrical skills and to have fun. There have been a wide variety of musicals presented over the years, most recently Mamma Mia! which played for 14 consecutive sold out performances in Bracebridge and Huntsville.
The Huntsville Festival of the Arts and Rotary Club of Huntsville are looking for experienced, creative Directors who are interested in bringing their vision to life and creating theatrical magic on the Algonquin Theatre stage. Potential Directors are invited to submit a proposal including a cover letter stating the musical title(s) they are interested in directing, a current resume and references. Application deadline is June 30, 2019. Selected candidates will be invited for an interview.
For further media information, please contact:
Dan Watson, Executive Director, Huntsville Festival of the Arts
T: 705-788-2787
E-mail: dan@huntsvillefestival.ca