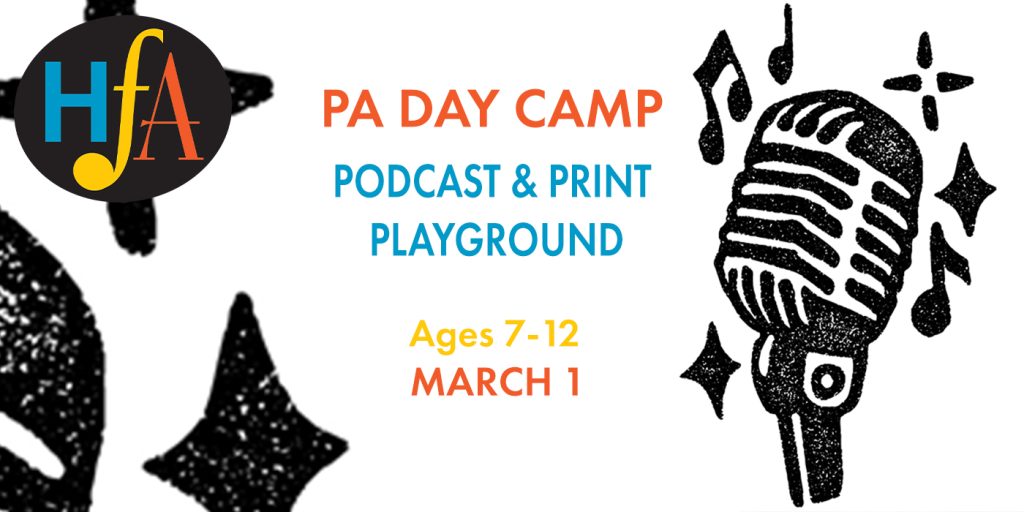 JOIN US FOR A DAY FILLED WITH LAUGHTER, CREATIVITY, AND ADVENTURE!
Create a podcast with multimedia artist, David Merleau, where you and other kids in the workshop will decide everything! Will you create a funny news show or a fun radio drama? Perhaps you will volunteer to be a host, or maybe you will be part of the sound effects team! In the afternoon, multi-disciplinary artist Elise Muller will teach different printmaking techniques such as Block Prints and Gel Plate prints to illustrate content from your podcasts and make original logos and greeting cards.  We will use a combination of ink pads, printing ink, and paint so bring an apron or wear work clothes.
See you at the Podcast and Print Playground!
MARCH 1 | 8:30 AM -4:30 PM
HfA STUDIO, 58 Main St. East (entrance across from River Mill Park)
Registration Fee: $40
Once registration payment is made, a representative will be in contact to collect more information

Venue:
HfA Studio, 58 Main St. East (entrance accross from River Mill Park)
Dates/Times:
March 1, 2024 9:00 AM
Ticket Prices:

$40
ADVANCE REGISTRATION FOR MEMBERS: NOVEMBER 15-21
CALL 705-788-2787
GENERAL REGISTRATION OPEN NOVEMBER 22
BUY TICKETS
SPONSORED BY