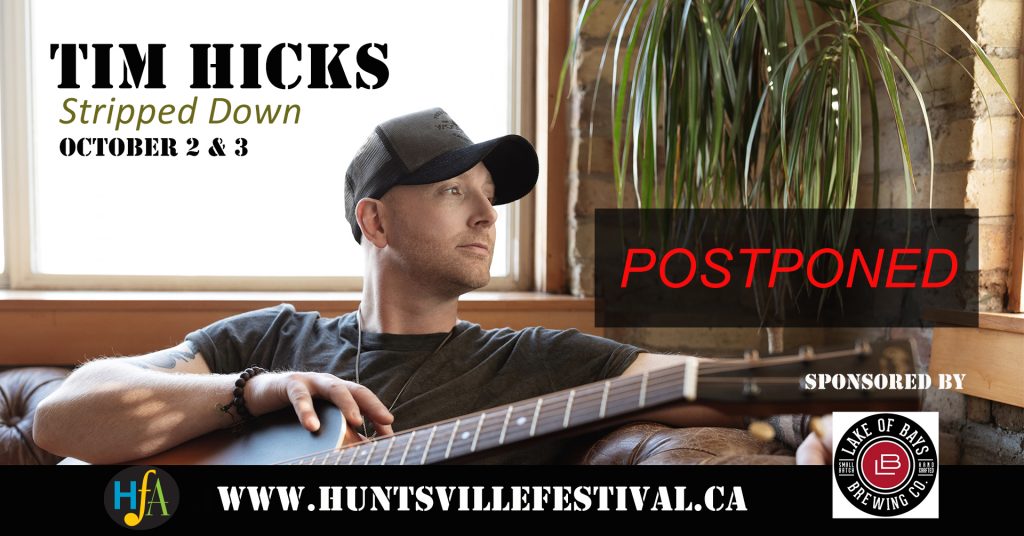 Dear Friends and Fans of Tim Hicks,
Due to the current state of the COVID-19 pandemic, Tim's concerts on October 2 & 3 in Huntsville have been postponed.
The decision was made due to the new Provincial regulations on gatherings and the increasing number of cases in Ontario. While this is disappointing, we feel it is the right decision given the serious situation we are facing. We can't wait to welcome Tim back to Huntsville when it is safe to do so.
Tickets holders will be contacted and receive a full refund. Rescheduled dates will be announced in the new year.
Take care everyone. We look forward to seeing you again soon!
—————————————————————————————————
The Huntsville Festival of the Arts is bringing you live music outdoors! Join us for an intimate acoustic performance by one of Canada's hottest country artists.
With special guests Paul Lagendyk

This is your chance to get up close and personal with this platinum selling artist who sells out stadiums and headlines festivals like Boots & Hearts and the Havelock Jamboree.
NOTE: This will be a 60 minute show with encore. Guests will be seated in a covered open air space with physical distancing. Please have one person buy the tickets for each group so we can properly social distance between social bubbles. Ultimately we would love for our guests to buy tickets in groups of 6, but we understand that is not always possible. Minimum purchase quantity is 4, maximum purchase is 10. Gates open at 6pm. Beer available on site provided Lake of Bays Brewery.
This concert will follow the guidance and regulations set out by the Province of Ontario's Stage 3 Reopening Framework. As such, the following rules will be in place.
Audience capacity will be 100 with physical distancing. All guests must wear a mask, hand sanitize upon entry and maintain physical distancing.
Members of the same household or extended bubble may be seated together
Washrooms will be available with cleaning protocols. Limit of 2 to each washroom.
Washrooms are open, they will be limited to 2 customers at a time. Sanitize before you go in and wash before you leave. Washrooms will be cleaned & disinfected regularly.
ABOUT TIM HICKS
Defining a genre with his sure-footed everyman approach, the platinum selling entertainer, set for the digital release of "Wreck This" a 6-song EP featuring the single "No Truck Song" and the summertime anthem "Floatin'." Produced by Jeff Coplan and co-written by Hicks, Jeff Coplan and Bruce Wallace, 'No Truck Song' follows Hicks' #1 chart-topper "What A Song Should Do" and serves as an exciting first look at what's to come in 2020.
"It's so much fun," shares Hicks about 'No Truck Song'. "On every album I usually add one or two songs that are a little tongue-in-cheek, designed to give fans (and me!) a chuckle, but we've never released one as a single before. We smiled and laughed a lot while we wrote it, so I hope fans hear that, and it makes them do the same!"
Hicks continues to lead the way, expanding the songwriting and style that helped define today's country music. The platinum selling entertainer is a "true star on the Canadian country music scene" (GoBe Weekly), "proving he knows how to tailor his songs to his ever-expanding audience" and commemorating his wide-open sound as one of the defining influences on today's Canadian County Music.
Building from local acclaim to a nationally recognized name, Hicks has cemented his reputation as an elite chart-topping act since making his country label debut in 2013. The platinum selling entertainer's catalogue of highly praised releases including: "Throw Down", "5:01", "5:01+", "Shake These Walls" and most recently, 2018's "New Tattoo", have earned the four-time JUNO Award nominee and CCMA Award winner, two PLATINUM selling singles, 7 GOLD singles, one GOLD album and thirteen Top 10 radio hits including the No. 1 chart-topper "What A Song Should Do" – all with his long-time label Open Road Recordings, in addition to multiple sold-out headlining dates and back to back national tours.
The first recipient of the Nielsen Compass Award, an honour that recognizes an artist for the most total content plays including streams, single and album sales as well as total social media following, Hicks released his fourth full-length studio album "New Tattoo" in June (2018) and followed with the national "Get Loud" headlining tour last fall, where he partnered with PLUS1 and donated $1 from every ticket to the Unison Fund and their work providing counseling and emergency relief services to the Canadian music community. The album's first single "LOUD", was licensed by the NHL in North America – adding to his collective 60+ million streams worldwide to date.
Venue:
Huntsville Fairgrounds, 407 Ravenscliffe Rd.
Dates/Times:
October 2, 2020 7:00 PM
October 3, 2020 7:00 PM
Ticket Prices:

Regular $100
Members $92
Plus HST
SPONSORED BY