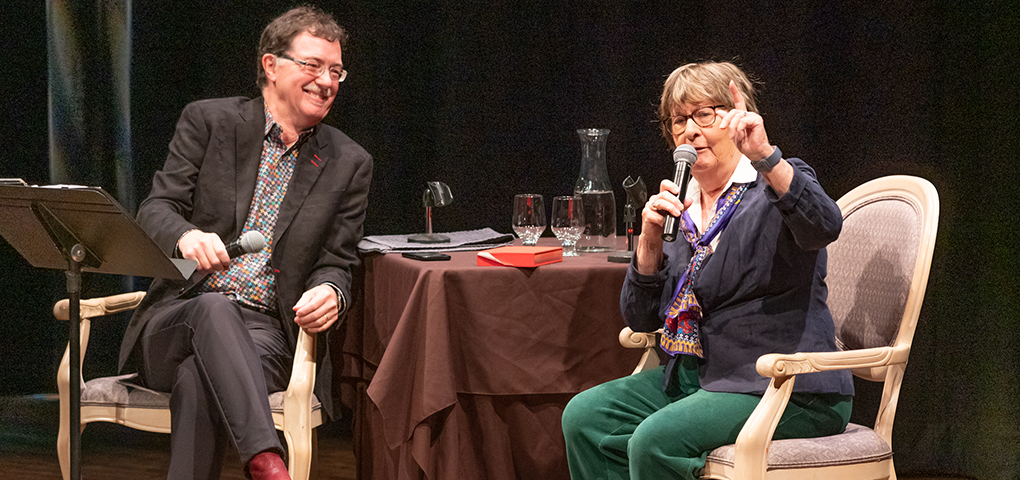 AN AFTERNOON IN CONVERSATION WITH THE AWARD WINNING AUTHOR OF MURDOCH MYSTERIES.


MEMBERS PURCHASE BY CALLING 705-789-4975
LEARN MORE ABOUT OUR MEMBER PROGRAM
ABOUT THE SHOW
An intimate and interactive afternoon with celebrated writer Maureen Jennings, creator of the popular Murdoch Mysteries Series. The events includes 2 – 45 minute interview sets and ends with a post-show meet and greet. The experience is like a perfectly mixed cocktail. Two parts conversation, one part show and tell, one part question and answer and all splashed with a dash of the unexpected. And, everyone comes away with the true story behind the person. 
ABOUT THE ARTISTS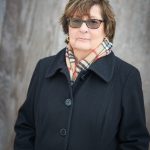 Maureen Jennings has four series in the crime fiction genre, seventeen novels in total. The first is set in 1895 Victorian Toronto, featuring detective William Murdoch.
The Murdoch Mysteries television series, broadcast by CBC is currently in its fifteenth season. She has written for the show for the past eleven seasons and is the creative consultant. The Detective Inspector Tom Tyler series is set in rural England, during WW2. Currently optioned for tv. These books were the inspiration for BOMB GIRLS, a television series broadcast by Global Television in 2012/2013. They are also produced as AUDIBLE BOOKS.
Another book featuring detective William Murdoch was published in 2017. It is called, LET DARKNESS BURY THE DEAD and is set during WW1 when Murdoch is older, and his son, Jack, returns from the war.
Her most recent book series features a female PI named Charlotte Frayne. The setting is Toronto, 1936. All books are published by Cormorant Books.  In between these books she has written four plays. Three are in the mystery genre and have all been professionally staged.
Finally, but not least, is a short film called VIATICUM produced by Lara Daans. It is adapted from Maureen's short story by that name.
Maureen Jennings was born in Birmingham, England and emigrated to Canada as a teenager. She has a BA in psychology and philosophy from the University of Windsor, and an MA in English Literature from the University of Toronto.
She lives in Toronto with her husband Iden Ford, who is a professional photographer. ( And their dog, a labradoodle named Murdoch.)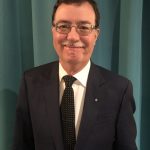 CAMERON SMILLIE
Cameron has worn many hats in both the corporate and performing arts worlds.  He is co-founder of Live at the Hippo Pool Events Inc., presenting performing arts events in theatres across southwestern Ontario. Consulting and coaching to a range of Canadian arts organizations and a roster of performing artists, he is currently Executive Producer for Tompkinsville (Go Fly A Kyte Productions); Business Manager for Jake's Gift (Juno Productions); Contracts Manager for Rebecca Perry Productions and Director of Touring for Canada's Ballet Jorgen. Cameron is the 2015 recipient of the British Columbia Touring Council Manager of the Year award and the national 2017 recipient of the Canadian Arts Presenting Association (CAPACOA) Agent of the Year. Currently, his Artist Life Stories speaker series now take place each season in a number of theatres across Ontario.

COVID-19 restrictions will be as per provincial COVID-19 regulations on date of event. By purchasing this ticket, the purchaser acknowledges that their contact information may be shared by the Algonquin Theatre with the Simcoe Muskoka District Health Unit if needed for the purpose of COVID-19 contact tracing.
Venue:
Algonquin Theatre, 37 Main St. East
Dates/Times:
July 3, 2022 2:00 PM
Ticket Prices:

Non-Members $35
Members $30
Senior $33
Youth $20
plus $3 service charge & HST
BUY TICKETS
SPONSORED BY