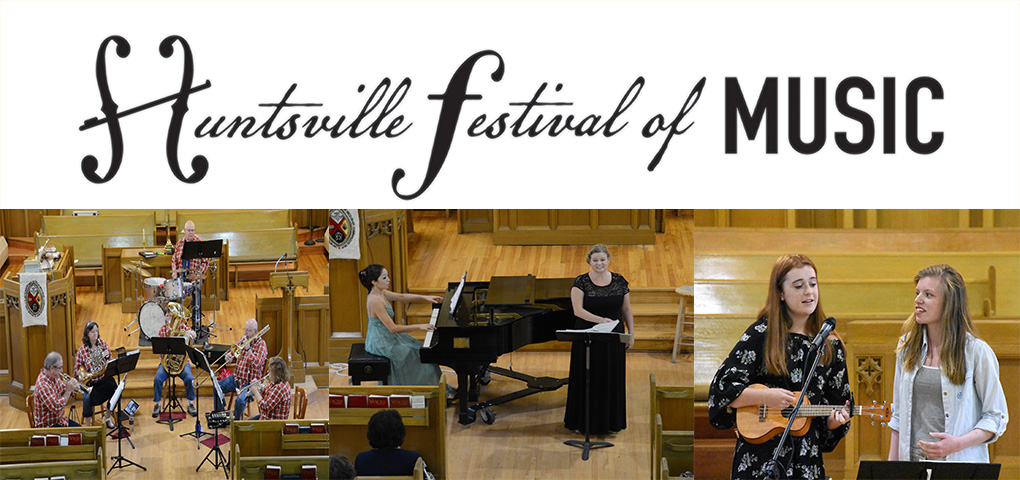 Huntsville Festival of Music 2023
We are thrilled to announce the Huntsville Festival of Music is coming March 2-5, 2023. We sincerely hope that you will join us for the event.
This exciting Festival will consist of competitive and non-competitive classes and coaching by qualified adjudicators/teachers. The event is open to all age groups and will include piano, solo/duet instrumental, solo voice, choral and composition classes.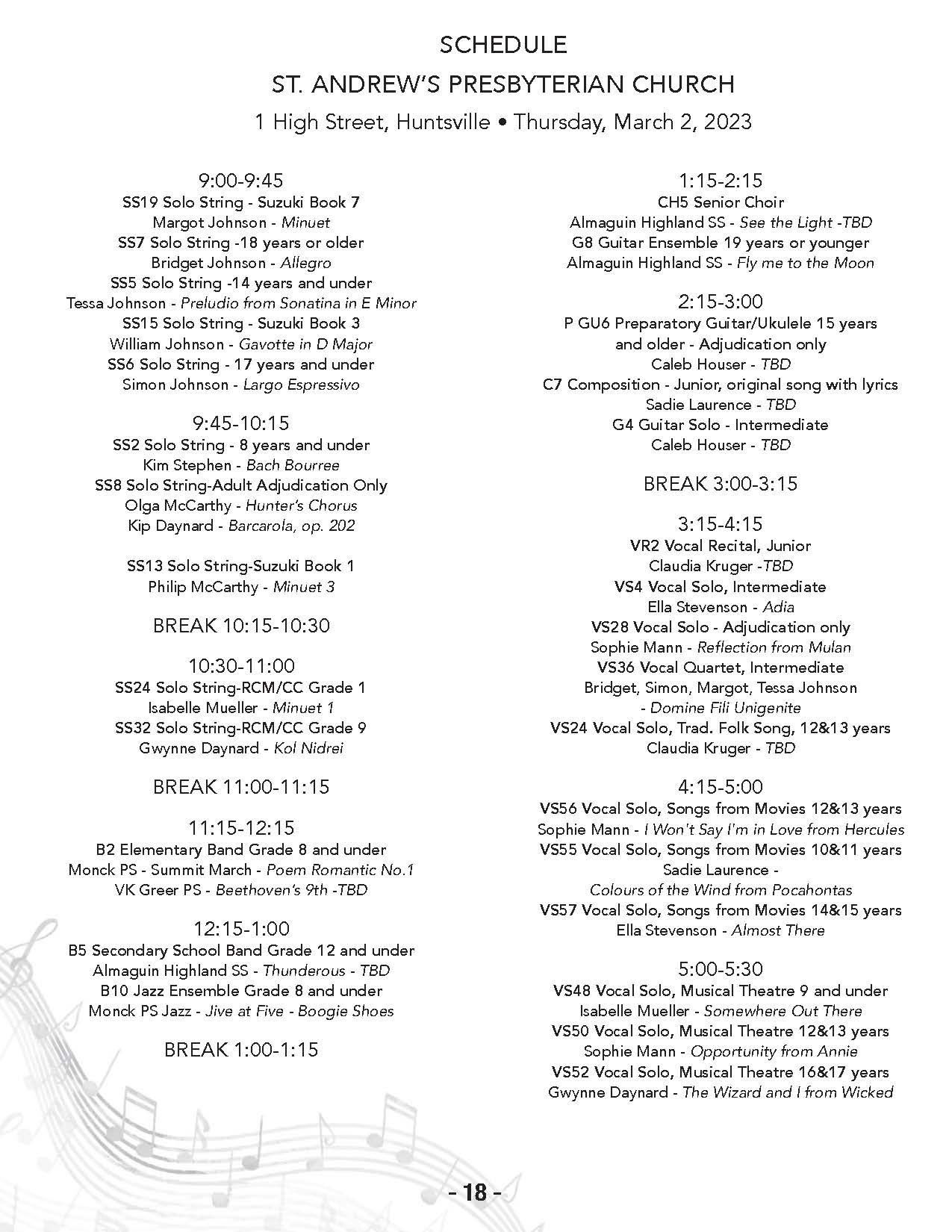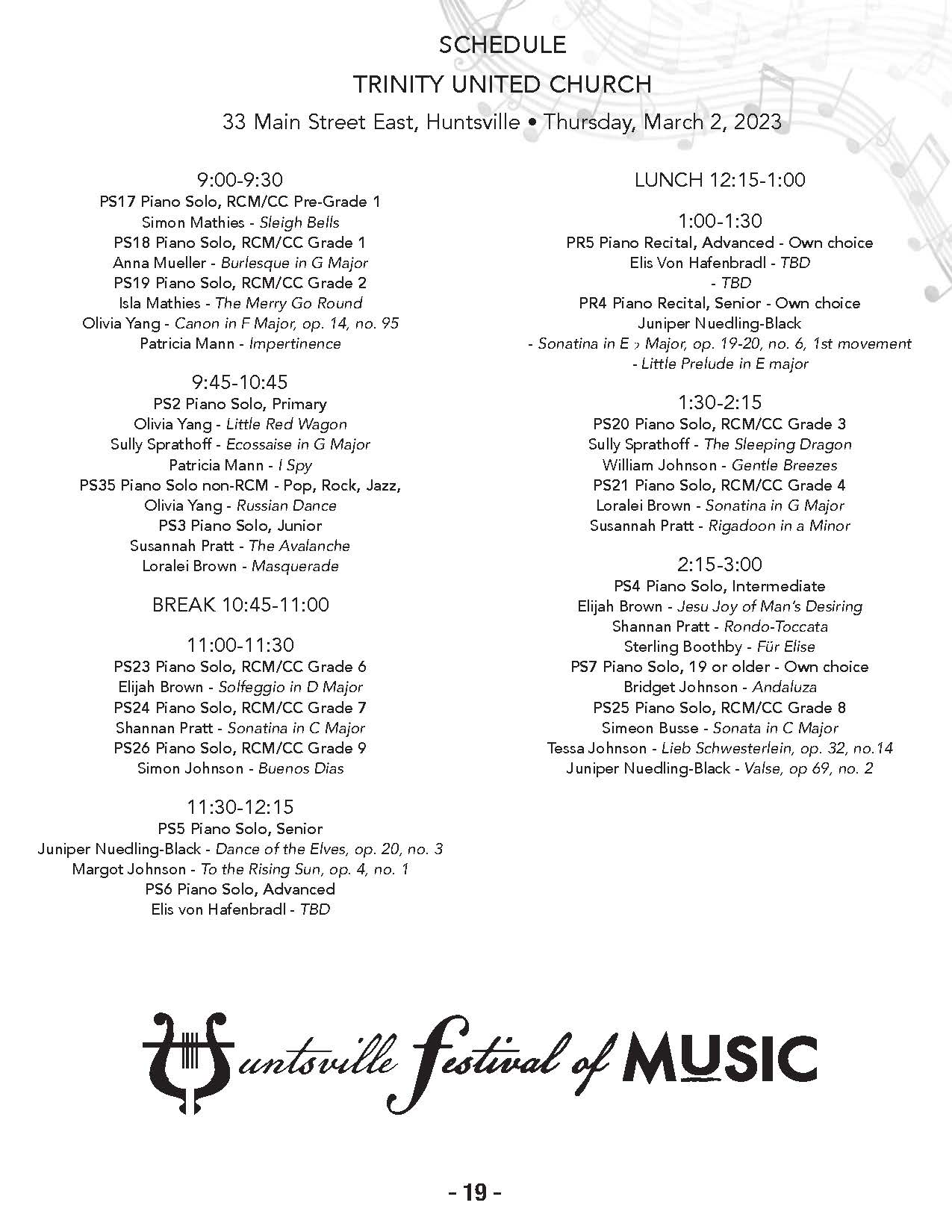 To help ensure the success of this new event, we have created a community giving program. Donations will got towards increasing outreach to students, offering valuable learning
experiences, supporting their artistic and social development, and through the event, enhancing the quality of life in our community.
Benefits to Donors include:
• A charitable tax receipt in the amount of your donation
• Name recognition in both the print program (2,500 copies) as well as online
• A contribution to the vibrancy of our Huntsville community
Interested in supporting the festival? CLICK HERE TO LEARN MORE
The Huntsville Festival of the Arts is pleased to announce the "Huntsville Festival of Music" which will take place on March 2-5, 2023.
This program is modeled on the Kiwanis Music Festival's mission to "encourage young and all age groups to know and love the arts and foster the values of self-discipline, teamwork and excellence".
The Festival is under the direction of Alana Nuedling, Carol Gibson, Gerri Mar and Kyung-A Lee. After a two-year postponement due to the COVID Pandemic, the organizing committee is thrilled to finally share this event with the community.
The goals are simple: celebrate the great talents, build stronger communities and provide the tools to create a better future for those who participate. The festival will consist of competitive and non-competitive classes taking place on March 2 & 3. Participants will perform and receive coaching led by qualified adjudicators/teachers and will be awarded with a participation certificate or an award certificate for the top three marks. 
There will be an opportunity to perform on the stage of Algonquin Theatre at the end of the Festival, for the gala concert 'Concert of the Stars'. Participants for this event will be chosen on merit (winner of each class) and special consideration. The Concert of the Stars will be held on March 5, 2023.
The Festival classes will take place on March 2nd – 3th, 2023 in 2 locations within downtown Huntsville:
Trinity United Church, 33 Main St E

Andrew's Presbyterian Church, 1 High St.
The Huntsville Festival of Music is open to all age groups and will include musical categories in Piano, solo/duet Instrumental, solo Voice, Choral, and Composition classes with genres ranging from Classical to Contemporary.
Registration will be open November 4th by visiting www.huntsvillefestival.ca. Participants from the districts of Muskoka and Parry Sound are encouraged to register. Deadline for registration is December 4, 2022
For more Information or please contact huntsvillefestivalofmusic@gmail.com