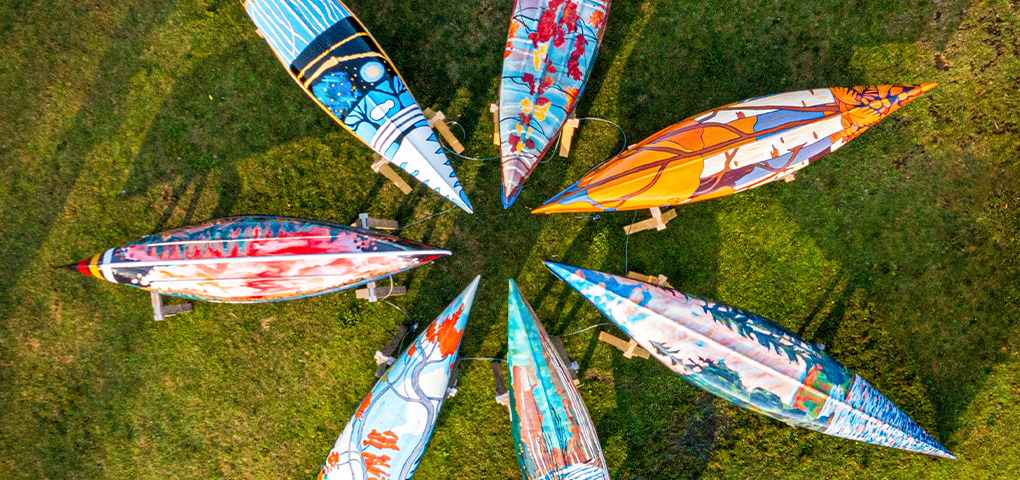 On October 21st at 4pm, The Huntsville Festival of the Arts and Algonquin Outfitters presented the first ever Canoe Mural Parade in downtown Huntsville.
The Canoe Mural Parade  invites community members and visitors to celebrate the art created in HFA's annual canoe mural project, and the local artists that painted them. The event kicked off the 2023 Algonquin Outfitters Paddle Art Auction: a bi-annual event raising funds that support local arts & culture organizations.

Leading the parade was the Cameron of Lochiel Pipes & Drums along with 30+ volunteers to carry the canoes along with some of the artists that have contributed to the Canoe Murals over the past 4 editions. Since 2020, for one week each summer, HfA has commissioned local artists to create interpretations of paintings by Tom Thomson and members of the Group of Seven Painters on the bottom of donated canoes. These canoes are then displayed outdoors in both downtown Huntsville and the surrounding area to feature the area's connection between these famous artists and the beautiful spaces they painted.
Bidding for the canoes and paddles in the 2023 Algonquin Outfitters Paddle Art Auction is live now and will last until bids close on November 13, 2023. For more information about the auction visit https://algonquinoutfitters.com/paddle-art-contest
Venue:
River Mill Park
Dates/Times:
October 21, 2023 4:00 PM
Ticket Prices:

FREE
SPONSORED BY