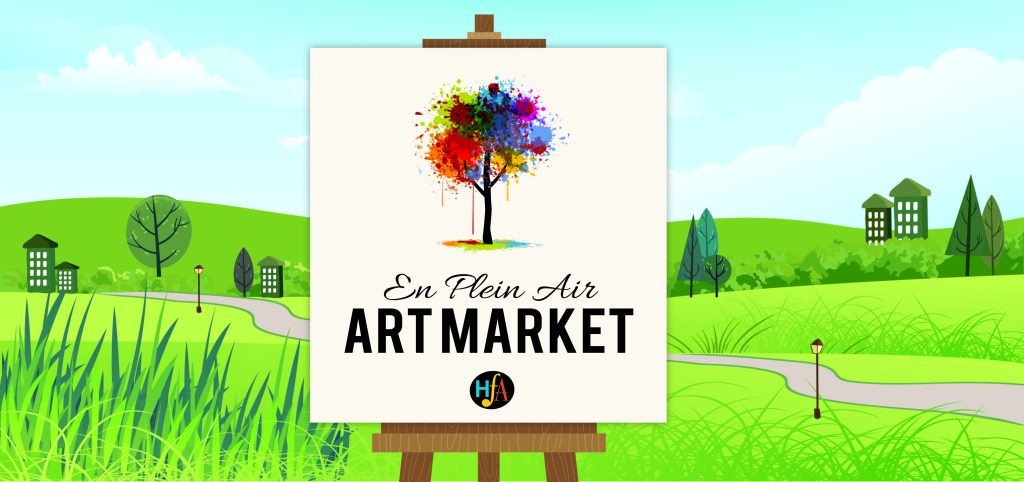 AN OPEN AIR MARKET FEATURING LOCAL ARTISTS AND LIVE PAINTING!
ARTIST APPLICATIONS NOW OPEN. DEADLINE IS MAY 26TH!
Join us for this new event consisting of a day-long art market featuring local artists along with live outdoor painting and music. A maximum of 20 local vendors will display and sell their art throughout the park. Artists and crafts makers of diverse disciplines are encouraged to apply including painting, jewelry, ceramics, clothing & fashion, and more.

The market also marks the return of the popular En Plein Air painting event. The event originally run by Kelly Holinshead of the Shutterbug Gallery, invites artists and area dignitaries to grab an easel and some paint before choosing an outdoor location downtown to inspire their creations. A few hours later, participants have to put down their brushes. The paintings are then given a bit of drying time before they are auctioned off to the public at 4pm, with proceeds going towards the Kareen Burn Visual Arts Scholarship supporting a local student studying visual arts related studies in a post secondary institution or program.

The deadline for applications to participate is May 26, 2023 at 5pm.
Participating vendors will be provided a 10ft x 10ft space in River Mill Park, on site support and will be included in the marketing and promotion of the event. A $100 deposit is required to secure a spot. These vendors will then receive a $50 refund on the day of the event.
Artists who wish to participate in the live painting En Plein Air Auction event, will be provided with a blank canvas and paints. Those who wish to participate as both vendors and as live painters will receive a full refund on the registration fee.
For further information contact Huntsville Festival of the Arts- Director of Programs, Outreach and Education at hannah@huntsvillefestival.ca or 705-788-2787
THANK YOU TO OUR THE SPONSOR OF THE EN PLEIN AIR ART MARKET HEAR WELL, BE WELL.

Venue:
RIVER MILL PARK
Dates/Times:
June 24, 2023 10:00 AM
Ticket Prices:

FREE
SPONSORED BY: