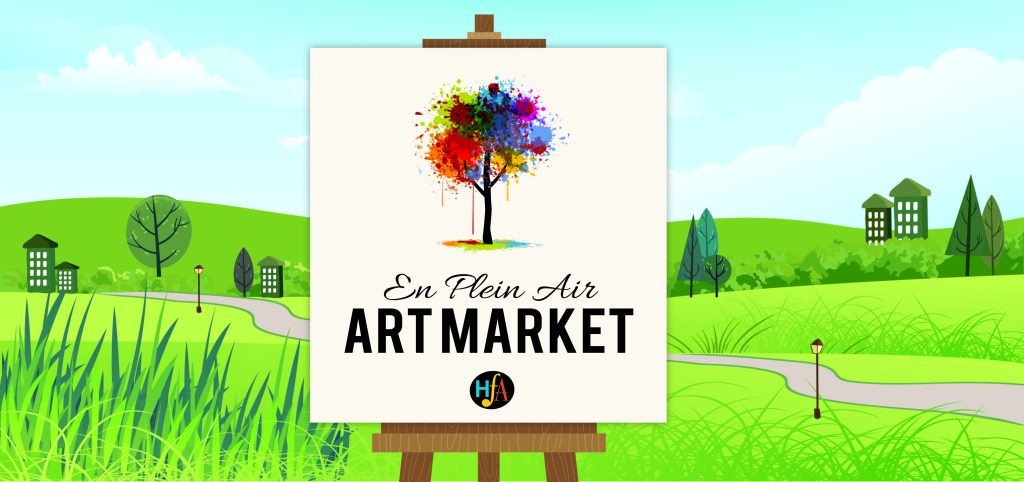 EVENT RUNS RAIN OR SHINE. LIVE AUCTION AT 4PM.

AN OPEN AIR MARKET FEATURING LOCAL ARTISTS AND LIVE PAINTING!
Art Lovers rejoice! The Huntsville Festival of the Arts (HfA) is pleased to present the first annual The En Plein Air Art Market on June 24th from 10am-4pm at River Mill Park in Downtown Huntsville.
The En Plein Air Art Market, sponsored by Hear Well, Be Well, consists of a day-long art market featuring local artists, live outdoor painting, and music. 19 local artists & vendors will have their work on display and available for purchase. From paintings, to jewelry, to home décor, there is something for all tastes and budgets.
Canvas Brewery will also be on site serving up cold drinks along with the Huntsville Strikers U11 girls team offering a menu of savory bbq items. Local musician Jack Gaughan, along with some incredible musicians, will provide a live soundtrack of jazz and blues throughout the day.
The market also marks the return of the popular En Plein Air painting event. The event originally run by Kelly Holinshead of the Shutterbug Gallery, invites artists and area dignitaries to grab an easel and some paint before choosing an outdoor location downtown to inspire their creations. A few hours later, participants have to put down their brushes. The paintings are then given a bit of drying time before they are auctioned off to the public at 4pm, with proceeds going towards the Kareen Burn Visual Arts Scholarship supporting a local student studying visual arts-related studies in a post-secondary institution or program.
PARTICIPATING ARTISTS:
Janine Marson – True Colours Art & Design – Painting
Kristen Murray – Pearl & Sparrow Jewellery – Jewellery
Allen Markle – Catajjen Boxes and Boards – Wood
Jeanette Hay – MuskokaArtRocks.com – Painting
Danielle Loshaw – Painting, Drawing, Photography, Printmaking, Sculpture
Brenda Turnour  – Painting, Cards, Mugs & Prints
Sharon McKenzie – Painting
Jacqueline Hope Raynor – Encaustic Painting
Catherine Luce – Mystical Woods Studio – Painting, Cards, Prints, Home Decor
Lauren Todd – Wildlife Photography
Jen Vander Doelen – VANDVINTAGE – Handcrafted Vintage Wool Pillows
JF Kuehnen – Malpractice Press – Painting
Elise Muller – Stone Tree Studio – Sculpture/Printmaking/Jewellery
Helena Renwick – Painting
Wendy Cho – Once Upon a Design
Tom Clark – Painting
Red Pine Art Supply with Sam Sullivan – Interactive Painting
Dawn Huddlestone – Birchnotes Creative – Cyanotype
Pam Carnochan – Fibre/Wool Painting

Live Music by Jack Gaughan & Friends
Cold Alcoholic & Non-Alcoholic drinks by Canvas Brewery
BBQ Food Vendor: The Huntsville Strikers U11 Girls Team
THANK YOU TO OUR THE SPONSOR OF THE EN PLEIN AIR ART MARKET HEAR WELL, BE WELL.

Venue:
RIVER MILL PARK
Dates/Times:
June 24, 2023 10:00 AM
Ticket Prices:

FREE
SPONSORED BY: