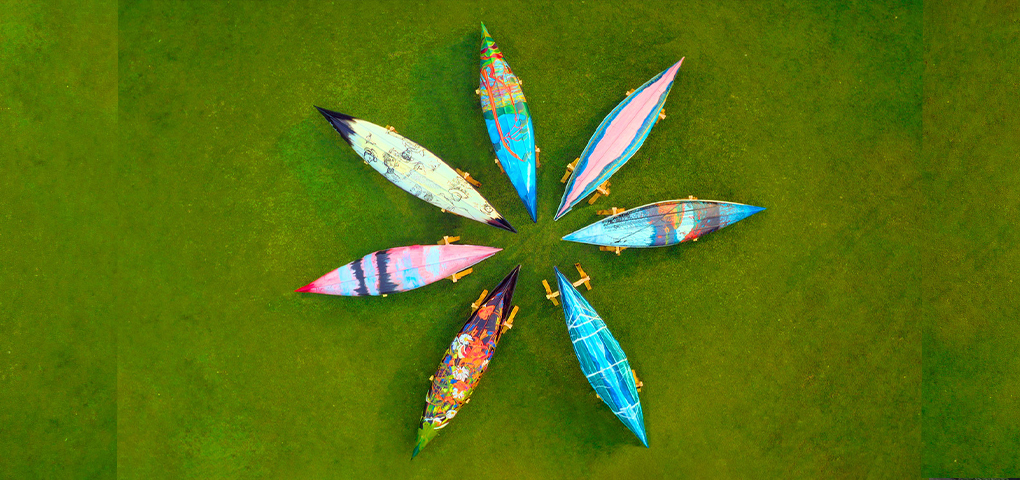 Artist Gerry Lantaigne will lead a group of local artists in the creation of 7 more canoe murals featuring the work of famous Canadian artists Tom Thomson and members of the Group of Seven. Artists will paint the canoes "en plein air" during a week-long event in Downtown Huntsville's River Mill Park. Artists to be confirmed. Engage with the artists while you watch the beautiful paintings being created! Once completed, these canoes will be displayed in Downtown Huntsville as part of the Group of Seven Outdoor Gallery Tour.

Calling all Muskoka artists! The Huntsville Festival of the Arts is seeking submissions for the third annual Group of Seven Canoe Mural Project.
From June 21-26, 2022, six artists will join muralist Gerry Lantaigne to create original murals inspired by and celebrating the work of the Group of Seven Painters. The murals will be painted en plein air in Downtown Huntsville's River Mill Park.  Each one will be painted on the underside of a canoe and will incorporate and take inspiration from a painting by one of the members of the group. The canoes will then be exhibited for free in the park until the fall of 2022 and will be included in the ECLIPSE Light Walk at Muskoka Heritage Place throughout the winter. After their exhibition, they will be included in the 2023 Algonquin Outfitters Paddle Art Auction which raises thousands of dollars for Ontario arts & culture organizations. Through these activities, the murals will be seen by tens of thousands, and will raise funds for Ontario's art & cultural community.
The Huntsville Festival of the Arts invites Muskoka based artists to submit proposals for inclusion in the project. Six artists will be selected to participate in the project based on their experience and project proposal. The deadline for submissions is May 27, 2022. Through the application process, artists will be asked to identify which Group of Seven artist they would like to feature in their mural. Selected artists will then work with Artist Gerry Lantaigne to choose a painting by their preferred artist to work with. Each artist will be provided with a canoe, paint (we use oil based marine paint) and a $1000 honorarium, and support as needed on working with the paint and canoe medium.
Expectations for selected artists include:
Completion of the formal application which can be found HERE
Availability to work from June 21-26 (plus June 27th as an alternative rain date) from 10am-5pm

Ability to work outdoors (under 10×10 canopy tent)

Availability to participate in any interviews or promotion of the project as needed.

Behave in a respectful and cooperative manner.

WATCH A VIDEO ABOUT LAST YEAR'S TOM THOMSON CANOE MURALS
Venue:
River Mill Park
Dates/Times:
June 21, 2022 10:00 AM
June 22, 2022 10:00 AM
June 23, 2022 10:00 AM
June 24, 2022 10:00 AM
June 25, 2022 10:00 AM
June 26, 2022 10:00 AM
Ticket Prices:

FREE
SPONSORED BY