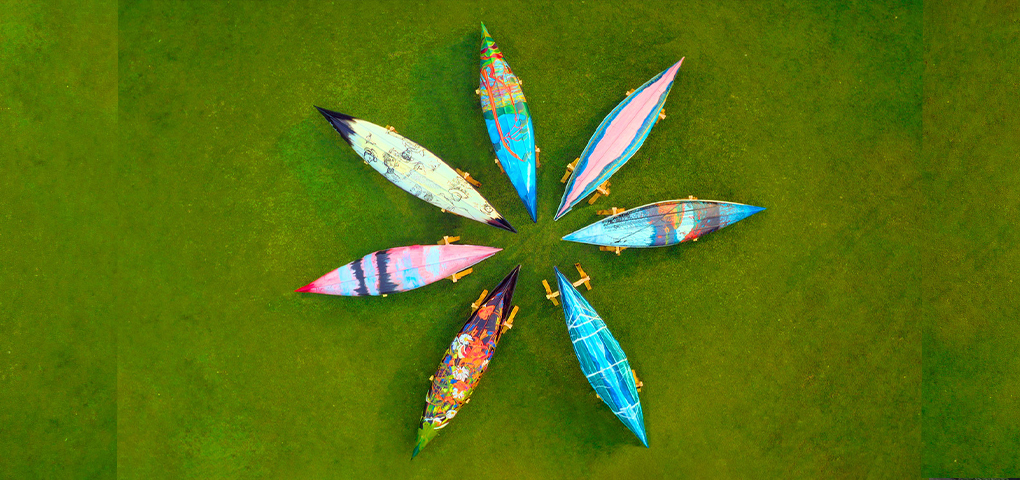 ON DISPLAY NOW AT ECLIPSE WALK WITH LIGHT AT THE MUSKOKA HERITAGE PLACE
Artist Gerry Lantaigne will lead a group of local artists in the creation of 7 more canoe murals featuring the work of famous Canadian artists Tom Thomson and members of the Group of Seven. Artists will paint the canoes "en plein air" during a week-long event in Downtown Huntsville's River Mill Park. Artists to be confirmed. Engage with the artists while you watch the beautiful paintings being created! Once completed, these canoes will be displayed in Downtown Huntsville as part of the Group of Seven Outdoor Gallery Tour.
This year's participating artists are:
Jennie Seward, painting JEH MacDonald
Brenda Behan Turnour, painting Arthur Lismer
Marike MacDonald, painting AJ Casson
Brittney Ransome, painting Franklin Carmichael
Ciara Ryan, painting AY Jackson
Liz Derksen, painting Lawren Harris
Janell Penner, painting Frederick Varley
Artists will be working in River Mill Park June 22-26, between 10am-6pm.
The Group of Seven Canoe Mural Project began in 2020 as a celebration of the 100th anniversary of the Group of Seven's first show. Huntsville artist Gerry Lantaigne, known for his work on the Group of 7 Outdoor Gallery, was commissioned to create 7 murals, each one celebrating one of the members of the Group of Seven Artists. In 2021, six local artists joined Gerry Lantaigne to create 7 new canoe murals, this time featuring the work of famed artist Tom Thomson. A truly Canadian project, the murals celebrate the role of the Group of Seven & Tom Thomson and the canoe in shaping Canada's national identity. The original canoes were included in the 2021 Algonquin Outfitters Paddle Art Auction helping to raise over $25,000 for a number of local Arts & Cultural Organizations.
This project is sponsored by Algonquin Outfitters and made possible through the generous support of the Huntsville Municipal Accommodation Tax Association, the Downtown Huntsville BIA and community partner the Town of Huntsville. It is one of the thirty different projects and events that marks the Huntsville Festival of the Arts' 30th anniversary summer season.
WATCH A VIDEO ABOUT LAST YEAR'S TOM THOMSON CANOE MURALS
Venue:
River Mill Park
Dates/Times:
June 21, 2022 10:00 AM
June 22, 2022 10:00 AM
June 23, 2022 10:00 AM
June 24, 2022 10:00 AM
June 25, 2022 10:00 AM
June 26, 2022 10:00 AM
Ticket Prices:

FREE
SPONSORED BY