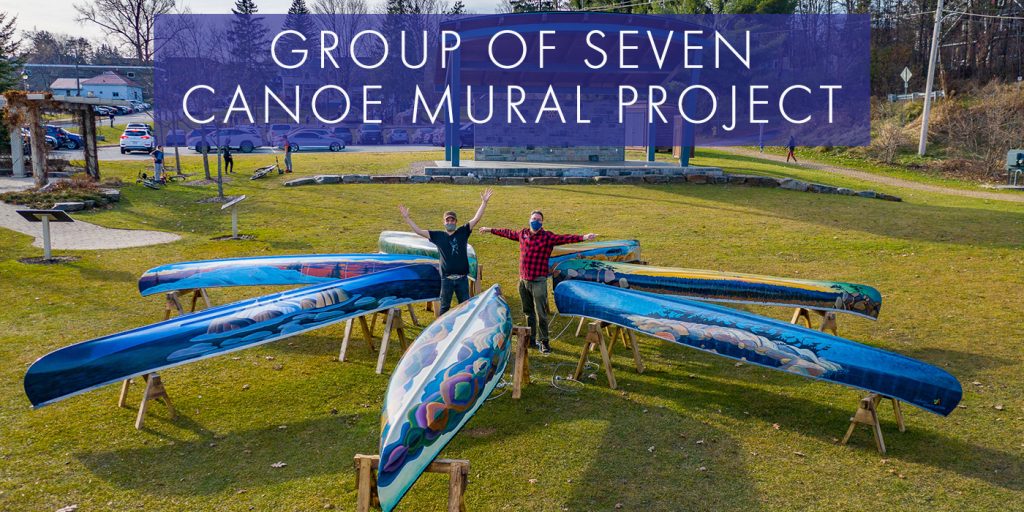 In 2020, the Huntsville Festival of the Arts (HfA) celebrated the 100th anniversary of the formation of the Group of Seven Artists through this very Canadian project. Huntsville artist Gerry Lantaigne, known for his work on the Group of 7 Outdoor Gallery, created 7 new murals, each painted on the underside of a canoe and featuring the work of one the Group of 7 members. These murals celebrate the role of the Group of Seven and the canoe in shaping Canada's national identity.
Throughout the summer of 2021, these canoes will be exhibited in different outdoor spaces throughout Ontario. Scheduled stops include:

June 1-July 4 & September 1-30 – River Mill Park, Downtown Huntsville
July 5-31 – Algonquin Outfitters, Opeongo Lake, 1035 Algonquin Outfitters Road
August 1-31 – Algonquin Art Centre, Km 20, Hwy 60
Following this, the canoes will be auctioned off as part of the Algonquin Outfitters Paddle Art Auction in September 2021. The online auction will take place between September 13-27. For more information on the auction CLICK HERE

Thank you to those whose donated their used canoes for this project including the Trenholme Family, the Grundy/Dowsett family, the McIlroy family, the Harpell family, Tayten Yachuk, the Hunter family, the Horne family, Tara Smyth and all those who offered their canoes. We are fortunate to live in such a giving community!
CHECK OUT THESE AMAZING VIDEOS FEATURING THE CANOES!
CREATED BY LIMELIGHT MUSKOKA & ALGONQUIN OUTFITTERS
FULL VIDEO

A.Y. JACKSON
ARTHUR LISMER

FRANK JOHNSTON
FRANKLIN CARMICHAEL

FREDERICK VARLEY
JEH MACDONALD
LAWREN HARRIS
Venue:
Downtown Huntsville
Dates/Times:
June 1, 2021 9:00 AM
September 30, 2021 5:00 PM
Ticket Prices:

FREE
SEASON SPONSOR

PROJECT SPONSORS