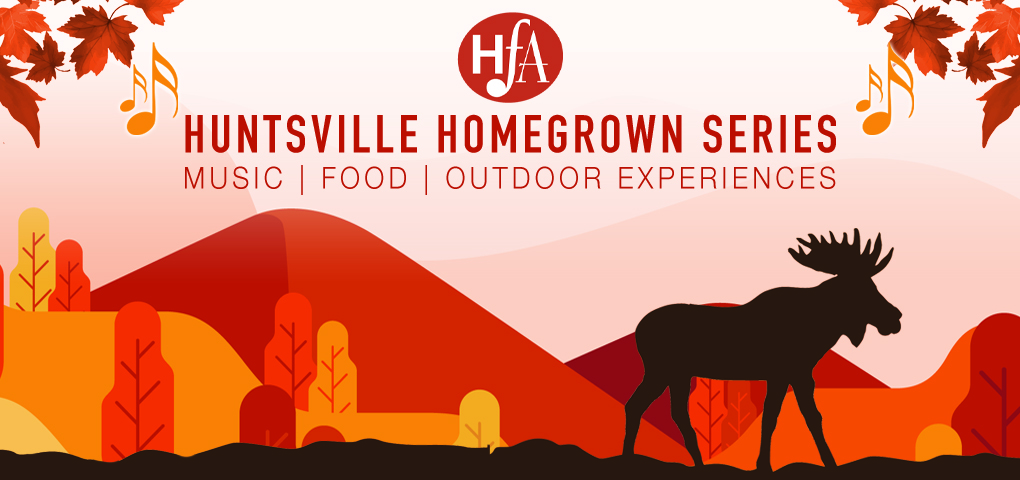 Join us on the beautiful grounds of Morgan House B&B for a unique Muskoka experience featuring outdoor activities (axe throwing/archery), music by James Gray & Bet Smith and delicious organic food. Choose from the elements below to create your own tailor made experience!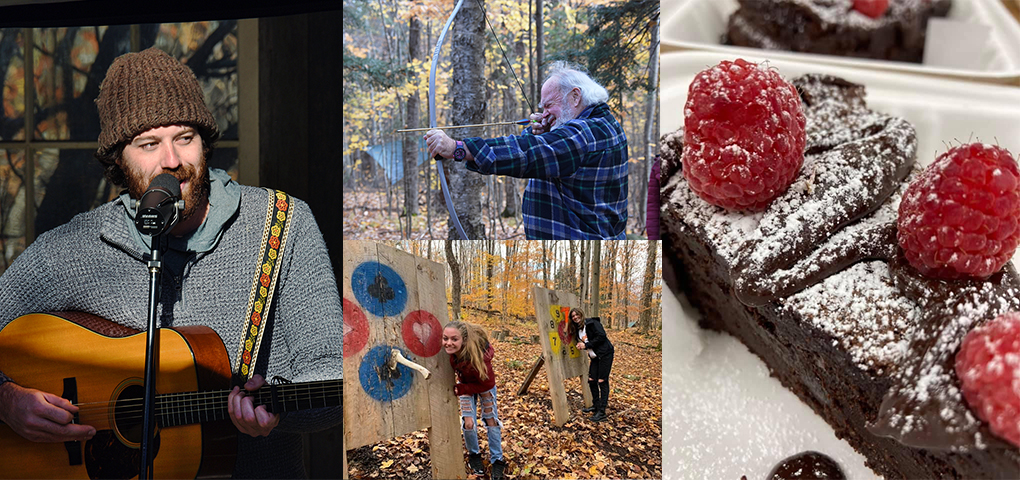 Noon-2:30pm:
Join Find Your Wild (https://findyourwild.life/) and try your hand at axe throwing or archery. Trained instructors will be on site to facilitate the activities safely and with strict health protocols. Sessions are one hour long which includes opportunity to use both axes and bows. Minimum of 4 people per booking. 2 sessions available (Noon & 1:30pm).
Noon-3pm:
Enjoy a delicious organic meal on the picturesque grounds. Pre-order a 3- course meal prepared by the Good Food Co-op. Your meal will be delivered to you on site to enjoy before or during the concert. Organizers will contact you after purchase to complete your order. CLICK HERE to see the menu
3pm-4pm:
Experience original music by some of Huntsville's most talented players. Featured players include Folk Artists James Gray (Oct 17) and Bet Smith (Oct 24). Concerts take place under an outdoor covered space.
This experience will follow the guidance and regulations set out by the Province of Ontario and the Simcoe Muskoka District Health Unit. As such, the following rules will be in place.
1. Audience capacity will be 25 with physical distancing.
2. Members of the same household or extended bubble may be seated together
3. Washrooms are open. Sanitize before you go in and wash before you leave. Washrooms will be cleaned & disinfected regularly.
————————————————————–
Artist Bios: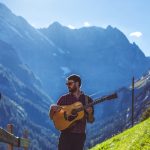 James Gray is a contemporary version of an old-school traveling folk singer. Over the years James has been endlessly criss-crossing Canada, Europe and Australia in pursuit of seeing the world and entertaining folks along the way. Notably James was a musical guest on the TED Talks held on the west coast of Canada, and recently James has received regular airplay on CBC radio programs including Fresh Air with Nana Aba Duncan and Ontario morning with Wei Chen. This past year Gray was invited to perform at both the 2019 Mariposa Folk Festival and the 2019 Troubadour Festival in James' home of central Ontario.
"James Gray is a dynamic singer/songwriter with a spirited, compelling sound that speaks to us all. With a stage presence that commands your attention his music is expressive and soulful. He garners followers wherever he performs. James is a musical talent not to be missed!" Pam Carter, Mariposa Folk Foundation President/Festival Chairperson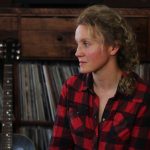 In Twenty-Ten, Bet Smith settled in to a tiny cabin on the west coast of Canada. Far-removed from everyday conveniences like running water and electricity, Bet learned to find comfort in a
give-and-take relationship with the land. Growing food, cooking over a fire, pulling water from the ground, waking up to see her breath hanging in the air on cold winter mornings; she learned
to settle in with nature's rhythms and embrace her dependence on the earth. Her reverence for nature soon began to show up in her music. Love songs would become adorned with imagery of wilderness, angst and heartbreak would often be for and on behalf of the earth.
In 2014 Bet returned home to Ontario and connected with multi-instrumentalists Rob and Andrew Currie. Eventually they would record two LPs and perform at venues and festivals
throughout their home region. Crafting songs from an unusually vast palette of experiences, Bet Smith speaks to listeners from every walk of life. Stylistically, Bet moves freely between alternative-folk and traditional country and is often acknowledged for her clever phrasing and unencumbered self-taught style.
Wantng to bring her environmentalist message to children, Bet released a short children's EP in fall 2019 under the name "Wilderness Betty and the Turnips," along with a stop-motion music
video to accompany the song, "Little Bees" which honours the vital role bees play in agriculture.
Bet has toured Canada from coast to coast. Festival highlights have included Sawdust City Music Festival, Roots North Music Festival, Salmon Arm Roots & Blues, Islands Folk Fest, Music City
North and Mariposa Folk Fes6val. Bet is set to release a new LP in February 2021.
Venue:
Morgan House B&B, 83 Morgan's Rd
Dates/Times:
October 17, 2020 12:00 PM
October 24, 2020 12:00 PM
Ticket Prices:

Concert Only $20/person
3 Course Meal $30/person
Axe Throwing/Archery $40/person (minimum of 4 people)
HfA Members receive a 10% discount
BUY TICKETS
SPONSORED BY