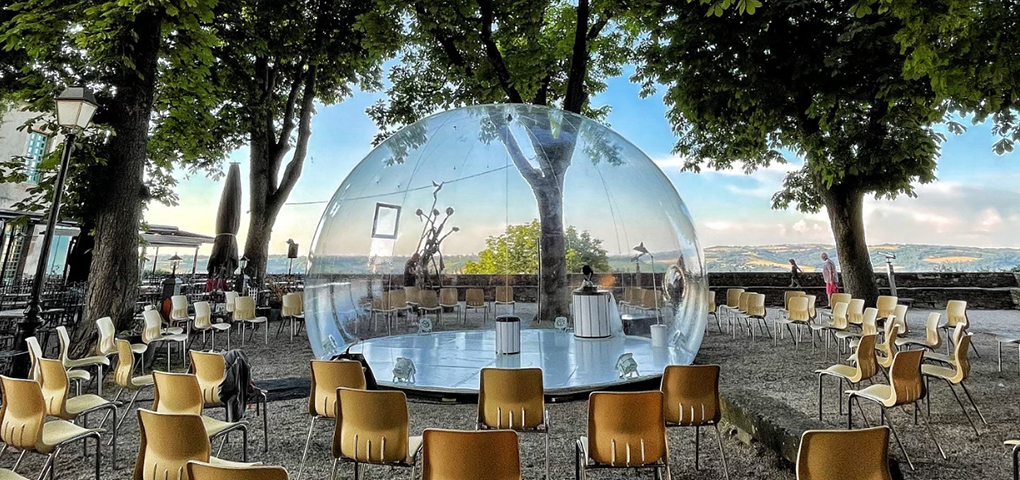 OUTDOOR CONTEMPORARY PERFORMANCE FOR ALL AGES

ABOUT THE ARTIST
LA BULLE IS THE NEW SHOW FROM CORPUS, DESIGNED FOR ANY PUBLIC SPACE AND FOR ALL AGES. It features a one-of-a-kind bubble tent (a character in its own right) and its confined inhabitant: Pierrot, the iconic loner and dreamer. Together, they live in transparent symbiosis. In this theatrical setting, there is nowhere to hide: an absurd situation, fully exploited by a lucid and lunar Pierrot. Through mime, dance, text, even drawing, he tries to connect with his audience. Dressed in the archetypal black and white costume and make-up, he manages to create bonds, alas all ephemeral, with those who are willing to give him a little time. He embraces solitude whole-heartedly, and swims freely like a fish in water in the realm of dreams. Poetry and humor are always at his side, true to CORPUS' vocation.
Venue:
Camp Tawingo, 1844 Ravenscliffe Rd
Dates/Times:
September 1, 2023 8:00 PM
September 2, 2023 8:00 PM
September 3, 2023 8:00 PM
Ticket Prices:

Non-Member $22
Member $18.70
Youth $12
Plus $3 Service Charge & HST.
No refunds. All Sales are Final.
BUY TICKETS
SPONSORED BY: