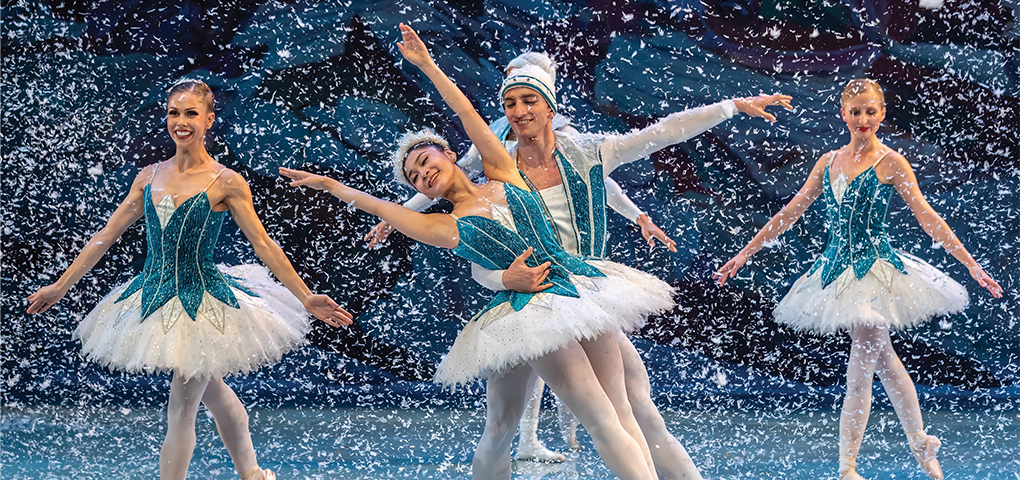 Holiday magic is made year after year by Ballet Jörgen's traditional treasure The Nutcracker: a Canadian Tradition. Created by acclaimed choreographer and Artistic Director Bengt Jörgen to Tchaikovsky's well-loved score, this delightful classic is a favourite that brings magic to the holidays.

MEMBERS PURCHASE BY CALLING 705-789-4975
LEARN MORE ABOUT OUR MEMBER PROGRAM
ABOUT THE PERFORMANCE
This is a beautiful Canadian work, and audiences are taken on Klara's familiar, magical dream journey as she arrives in Canada and experiences winter landscapes filled with snowflakes, lumberjacks, Mounties, and creatures of the woods. This celebration of the wonder of the season is based on the popular traditional story The Nutcracker and the King of mice by E.T.A. Hoffman, enjoyed by audiences for years. The ballet's second act is remembered for its celebration of varied dances, and our charming divertissements of raccoons, loons, dragonflies, and bears demonstrate Klara's longing for the summer months as she travels excitedly through her dreams. The iconic, show-stopping pas-de-deux in the final act is lovingly danced by Lord and Lady Birch as they usher Klara safely home at the end of the adventure. Ballet Jörgen's Nutcracker is destined to become a national treasure that will warm the hearts of young and old alike. It is a holiday tradition that has showcased the magic of the season for years. Rediscover the joy of dance with the show that audiences flock back to again and again.
AS PER PROVINCIAL LAW, PROOF OF COVID-19 VACCINATION REQUIRED UPON ENTRY TO EVENT FOR ALL PATRONS 12+. You will be asked to show your vaccine certificate (with QR code) upon entry to the event. If you have not downloaded the certificate with QR code, you will be asked to show a printed or digital copy of your second vaccine receipt upon entry to the event. Please note your second dose must have occurred at least 14 days prior to the date of the event. You will also need to show valid ID along with your proof of vaccination.Your proof of vaccination can be downloaded by visiting http://covid19.ontariohealth.ca .Those ticket holders who do not have proof of COVID-19 vaccination due to a medical exemption must show a certified document from a medical professional outlining the exemption, as well as a negative COVID-19 test dated within three days of the event.
Mask required. Mask may be removed for drinking only. Other COVID-19 restrictions will be as per provincial COVID-19 regulations on date of event.By purchasing this ticket, the purchaser acknowledges that their contact information may be shared by the Algonquin Theatre with the Simcoe Muskoka District Health Unit if needed for the purpose of COVID-19 contact tracing. (Edited)
Venue:
Algonquin Theatre
Dates/Times:
December 18, 2021 2:00 PM
December 18, 2021 7:00 PM
Ticket Prices:

Regular $45
Members $40
Youth $25
Plus $3 Service Charge + HST
BUY TICKETS
SPONSORED BY

ROGERS COVE | MUSKOKA TRADITIONS