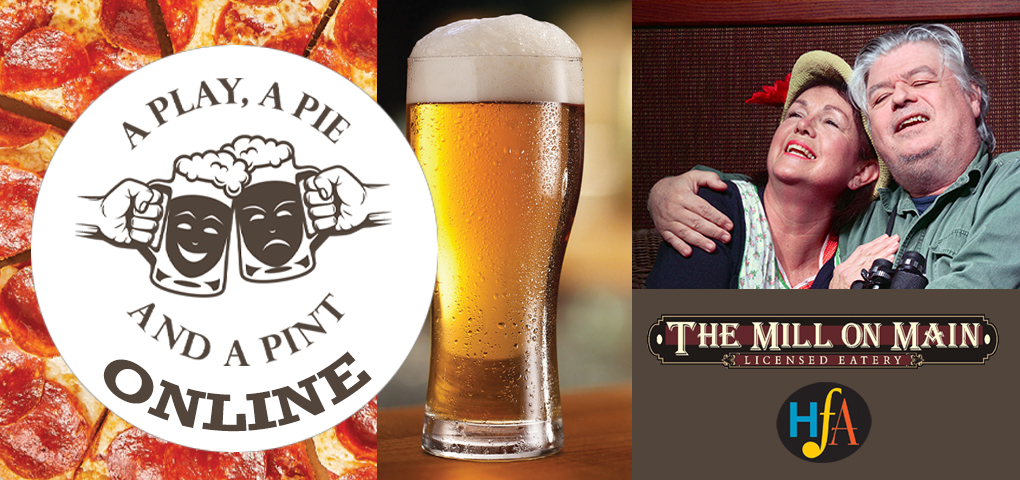 A TWIST ON A YEARLY TRADITION!
Join us online for a night of theatre, food and fun from the comfort of your own home! Due to COVID, this year we're doing things differently. To take part in this super popular event, all you need to do is follow 3 easy steps.
STEP #1: PURCHASE YOUR TICKET ONLINE HERE
The full price ticket includes a wood fired pizza & small salad from the Mill On Main Restaurant and a link to the online performances which will be broadcast over Zoom on January 30th. Tickets can also be purchased for the performances only.
STEP #2: ORDER YOUR PIZZA FOR PICK UP
Call 705-788-5150 to order your pizza. he new hours for Mill on Main are Thursday 5-7:30pm, Friday 3-7:30pm and Saturday noon-7:30pm. The full price ticket gets you ONE FULL sized pizza & small salad (beer or wine is NOT included in the price, but can be purchased directly from the Mill. Salad cannot be exchanged for pizza). For your FULL sized pizza, you get a choice of either "THE CLASSIC" (Homemade tomato sauce, fresh mozzarella, and spicy salami) or "THE VEGGIE" (Tomato Sauce, Red Onion, Cherry Tomato, Black Olives, Oregano Flakes & Mozzarella Cheese) along with a small salad. When you order, you'll be asked to pick a date to pick up the food (either January 29 between 3-7:30pm or January 30 between noon-7:30pm). Your pizza will be half-baked in the Mill's famous Wood Oven to give it that delicious smoky taste. You pick it up, bring it home, and put it in the oven for 20 minutes. Want more food or drink? Of course you can order from the Mill's menu and pay the restaurant directly. You can see the Mill's full menu HERE
STEP #3: CHOOSE YOUR VIRTUAL TABLE
Through the use of ZOOM's break out room feature, you can create your own private space to eat and visit with friends. Think of it like being at a table in a restaurant with your friends. You prepare your food & drink at home, then join the zoom call at 6pm where you can join your friends at a Virtual Table to eat and visit together. At 6:30pm, you'll be welcomed into the "Main Room" to enjoy the plays.
Virtual Tables can include up to 8 participants and must be arranged in advance. To book your "Virtual Table" e-mail Pat Lightfoot at pat.huntsville@gmail.com. Just want to see the show? No problem. You can join the Zoom call shortly before 6:30pm for the shows.
————————————–
This year we've included 3 of your favorite plays from past editions along with a world premiere. Our line up includes:
"I'm Herbert"
Written by Robert Anderson
Directed by Caroline Heyblom. Starring Jeanine Spring and Jamie Jordan.
Presented by special arrangement with Dramatists Play Service, Inc., New York.
"Sure Thing"
Written by David Ives
Directed by Tia Pearse. Starring Lauren and Mark Rodrigues
Presented by special arrangement with Dramatists Play Service, Inc., New York.

"Waiting for the Matinée"
Written by Eric Coble: presented by Special Arrangement with Dramatists Play Service, Inc., New York.
Directed by Cyd Jones. Starring Karen Thorn and Terry Savory.
Presented by special arrangement with Dramatists Play Service, Inc., New York.
" I have ZOOM news "
Written by Alberta Robinet. Directed & Edited by Sarah Vanasse. Story Concept by Alberta Robinet & Sarah Vanasse. Starring Alberta Robinet, Sarah Vanasse & Eric Vanasse
Filming and editing: John A McDonald – Creative Construct
Producer: HFA : Dan Watson (Executive Director HFA)
Event Co-ordinator: Suzanne Riverin (HFA Board)
Assistant Event Co-ordinator: Pat Lightfoot
Venue:
Online
Dates/Times:
January 30, 2021 6:00 PM
Ticket Prices:

$30 Dinner & Show
$15 Show Only
Plus HST
BUY TICKETS