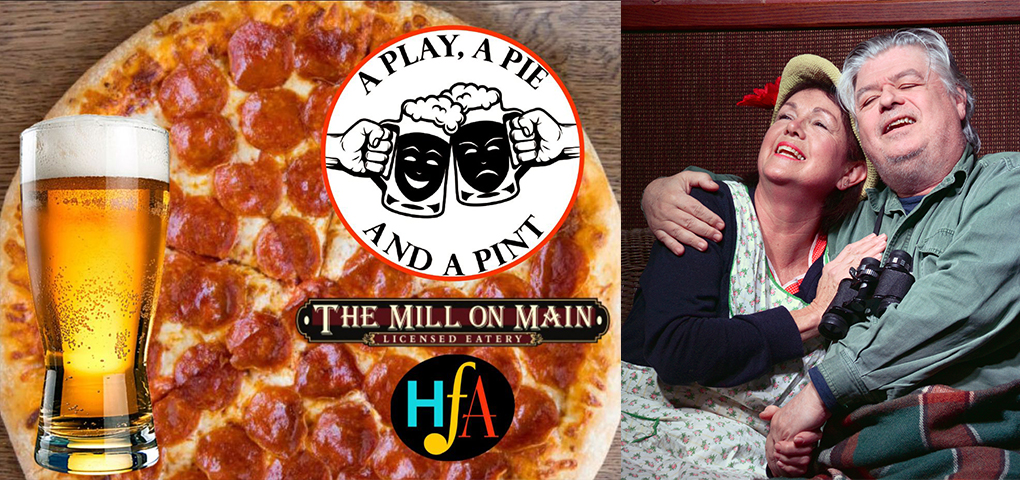 A YEARLY TRADITION!
join us at The Mill on Main for a night of theatre, food and fun. The ticket includes a dinner seating where you get one of the Mill's Mini Pizzas or a house salad accompanied by a 16oz. pint or a 5 oz. glass of house red or white Wine. Following dinner, you'll be entertained by four ten-minute plays presented by local directors and actors.
This year's line up includes:
"Toilet Talk"
Written by Alberta Robinet. Directed by Sarah Vanasse. Starring Sarah Vanasse and Alberta Robinet.
"Inside the Department of the Exterior"
Written by Philip Hall. Directed by Tia Pearse. Starring Cyd Jones and Matt Huddlestone.
"The Eleventh Minute"
Written by Marika Barnett. Directed by Suzanne Riverin and Catherine Cole. Starring Pru Donaldson and Suzanne Riverin.
"Evolution"
Written by Peter Floyd. Directed by Caroline Heyblom. Starring Karen Thorn, Terry Savory and David Walton.
Produced by Suzanne Riverin.
Stage Management by Pat Lightfoot.
Tickets are $30 and on sale at The Great Vine starting November 15th. CASH ONLY.
AVAILABLE FOR PURCHASE IN PERSON ONLY.
Last dinner seating at 6:15 after Dinner at 5:00pm.
Venue:
Mill on Main Restaurant, 50 Main St. East
Dates/Times:
January 13, 2020 7:00 PM
January 14, 2020 7:00 PM
Ticket Prices:

$30 All Inclusive
Tickets must be purchased in person at The Great Vine, 36 Main St. East