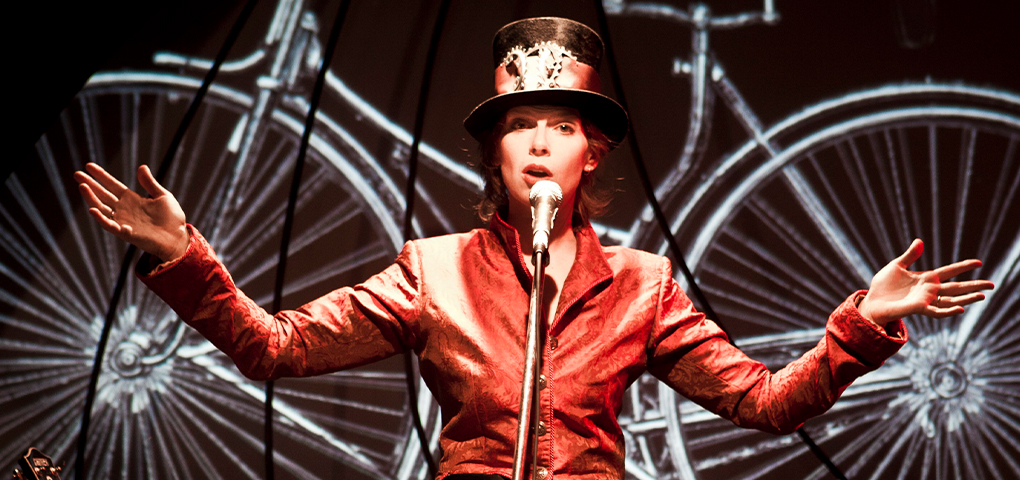 One part documentary and another part musical activism, Spin is inspired in part by the incredible true tale of Annie Londonderry, the first woman to ride around the world on a bicycle in 1895.

CLICK HERE TO LEARN MORE ABOUT OUR MEMBERSHIP PROGRAM
ABOUT THE SHOW:
Evalyn Parry takes her audience on an uncommon theatrical and musical journey in Spin, her tour-de-force performance celebrating the Bicycle. A fascinating web of stories that travel from 19th-century women's emancipation to 21st-century consumer culture, peeling back layers of history to reveal a surprising and contemporary heart to her theme of liberation.
A vintage bicycle, hooked up to simple electronics and suspended in a mechanic's stand, is played – from fenders to spokes to vinyl seat, from whirling pedals to bells – by percussionist Brad Hart, providing a captivating sonic accompaniment to parry's songs and monologues. Staged by award-winning director Ruth Madoc-Jones, with stunning visual projections by acclaimed designer Beth Kates, this unique show has delighted audiences across the continent.
"Part theatre, part music gig, part spoken word poetry, part documentary: whatever it is, it is brilliant" Toronto Star
"…a welcome breath of fresh air….SPIN makes something beautiful out of taking your life into your own hands" Globe & Mail
"Annie Londonderry's story becomes a portal into Parry's own life and heart and that is what gives the show such resonance." Calgary Sun
"…this magnetic artist and her winning production team invest the work with such intelligence and playfulness, it's hard not to be charmed. NOW Magazine
"a show with as much heart as it possesses design and brains." Calgary Herald
Written and performed by Evalyn Parry
Featuring Brad Hart playing the Bicycle
Directed by Ruth Madoc-Jones
Production design by Beth Kates
The show premiered in Toronto's Buddies in Bad Times Theatre (a coproduction with OutSpoke Productions) in 2011, and over the decade that followed has enjoyed more than 300 performances across North America, with tour dates from the Lincoln Center in New York City, to the Northern Arts and Culture Centre in Yellowknife, and many, many stops in between.
Venue:
Algonquin Theatre
Dates/Times:
October 20, 2023 7:30 PM
Ticket Prices:

Non-Member $35
Member $29.50
Youth $20
Plus $3 Service Charge $ HST. No refunds. All Sales are Final.
BUY TICKETS