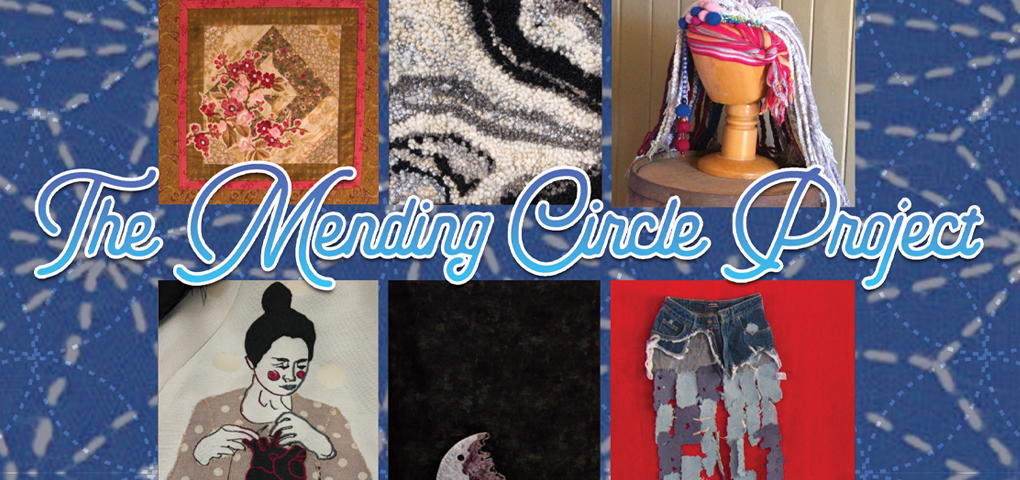 A free exhibit of original art inspired by the theme of "mending" running September 16-October 3 at the HfA Studio in downtown Huntsville
Featuring the work of Beth Ward, Elspeth Wood, Marilyn Daniels, Vicky Mathies, Vera Samarkina and Beverley Hawksley

STUDIO HOURS:
Thursdays & Fridays 12pm-6pm
Saturdays & Sundays 10am-4pm
In the Spring of 2020, Huntsville based artist Beverley Hawksley reached out, looking for a group to join her in The Mending Circle Project. Since September 2020, these six makers have been meeting online to explore the concept of mending. This "circle" resulted in an incredibly successful art show that premiered at the Waterford Old Town Hall this past summer, and will now be presented in Huntsville at the HfA Studio.
The art exhibit features original creations by the 6 artists in response to the theme of mending:
"Since mending can mean many things and its definition offers layers of interpretation—to mend can mean to restore, repair, renew, amend, heal, recover, to grow back together, to rebuild—it can evoke a variety of responses. No matter where we were from in the world, we had childhood memories of learning to keep our clothing in good repair, to mend so that these items lasted; we also discussed how working with our hands facilitated all these things, and simultaneously gave us contemplative time and space to consider the more complex ways mending moved through us."
Throughout the Exhibit, the Artists will be offering a number of different opportunities:
The Mending Circle Project and special guest, Jessica Vellenga invite you to join us in River Mill Park, Sat. Sept.25, 1:00 – 3:00pm  for a "Mend & Make Well" workshop. 
Jessica Vellenga's Mend & Make Well is an ongoing, participatory artwork about the material items we cherish that tell the stories of our lives.
All are welcome to bring items in need of simple mending and repair.  Participants can share the stories of these items, mend them or learn how to mend them, using traditional hand sewing, darning, knitting and crochet techniques. This sustainable practice allows Jessica to teach historic traditions of fabric craftsmanship and repair to the public, while also offering a gift of mending.
Mending Circle Project with special guest Joyce Jonathan Crone: Oct. 2 1:00- 3:00 River Mill / Courtyard
The Mending Circle Project and special guest, Joyce Jonathan Crone, invite you to join us in River Mill Park, Saturday, Oct. 2 from 1:00-3:00pm for a unique opportunity to connect with community. Joyce is Mohawk, Turtle Clan, born on the Six Nations Reserve.  A retired teacher, she now makes her home in Huntsville. Joyce is a gifted facilitator, humanitarian and an activist for global indigenous issues. In a welcoming space and in keeping with the theme of "mending', Joyce will share her story and lead us in a talking circle. We are looking forward to seeing you there!
For more information, or to register for either of these events, please contact dan@huntsvillefestival.ca or call 705-788-2787
Venue:
HfA Studio, 58 Main St. East (entrance accross from River Mill Park)
Dates/Times:
September 16, 2021 12:00 PM
October 3, 2021 4:00 AM
Ticket Prices:

FREE
STUDIO HOURS: Thursdays & Fridays 12pm-6pm Saturdays & Sundays 10am-4pm