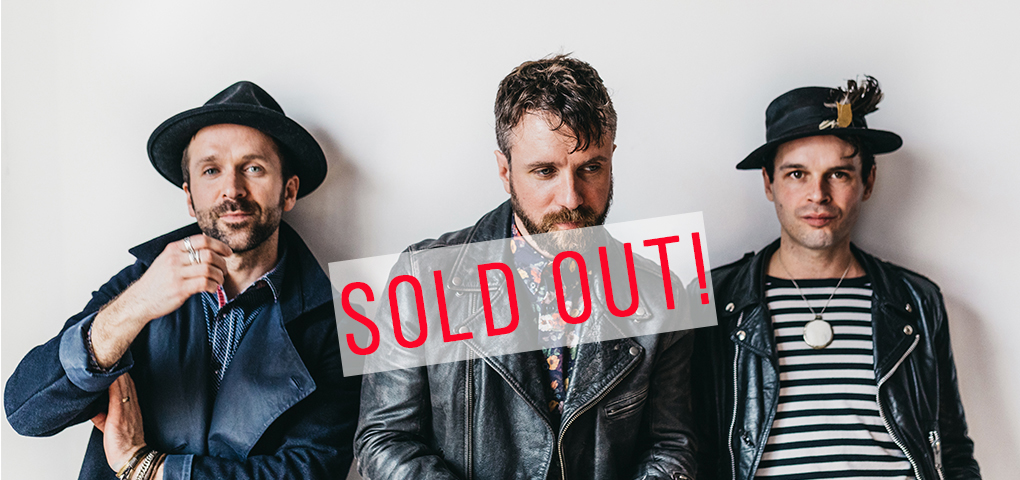 WE'RE GOING TO HAVE LIVE MUSIC OUTDOORS!!
An intimate acoustic trio performance with Canadian Rock Icons The Trews!
SOLD OUT!

MEMBERS CALL 705-788-2787 TO PURCHASE
These concerts will take place under the open air covered pavilion at the Huntsville Fairgrounds. These are in-person social distanced shows with a maximum audience capacity of 100. Concerts will follow guidance and regulations set out by the Simcoe/Muskoka District Health Unit.
NOTE: There will be one 90 minute acoustic trio set. We are encouraging one person to buy the tickets for each group so we can properly social distance between social bubbles. Ultimately we would love for our guests to buy tickets in groups of 6, but we understand that is not always possible. Seating is a mixture of picnic tables and individual seats. CLICK HERE TO SEE A SEATING CHART Members of the same household or extended bubble may be seated together. Gates open at 6pm. Cash bar available on site provided Lake of Bays Brewery.
ABOUT THE ARTIST:
The Trews are among the most prolific, electrifying, and innovative rock bands on the planet. The Nova Scotia-bred combo of singer/guitarist Colin MacDonald, guitarist John-Angus MacDonald, bassist Jack Syperek, and drummer Chris Gormley —songwriters all —has won universal acclaim for both their dazzling live performances and wildly accessible songs.
You'd think a celebrated veteran band like The Trews—with countless radio hits, ecstatic fans from Dublin to Des Moines plus multiple EPs, a pair of live albums and a retrospective—would regard studio album number six as a cinch.
After all, it's their career equivalent to LedZeppelin's Physical Graffiti or REM's Green, the Beatles' Rubber Soul and The Tragically Hip's Phantom Power; the apex of decades-long musical ingenuity arriving at a juncture where there is nothing, truly not one thing, left to prove.
Yet you'd be dead wrong. In what can only be described as a rage against stasis, The Trews approached Civilianaires, their electrifying and wildly original follow-up to 2014's The Trews, the way a contractor tackles a kitchen reno:t tearing things down to the studs, then building out piece by new piece.
"We're almost in existential-crisis-mode if we don't have new songs we're excited about," guitarist/songwriter John-Angus MacDonald howls on behalf of singer/songwriter Colin MacDonald and bassist Jack Syperek. "With us it's always 'What's next?' We're most galvanized while we're creating. And this new album is a completely fresh take on what we've done before."
Which is not to suggest Trews fans will be bewildered by the towering and multifaceted songs on Civilianaires. Dazzled is more like it, though #jawhitsfloor will doubtless trend when heads wrap around tracks like the seething, staccato, and synth-goosed corker "Harder To Love," "Is It Too Late" —a sombre, almost hymnal anthem buoyed by piano and a choir —and the cheekily poetic "Bar Star," its gargantuanchorus described by John-Angus MacDonald as the band's best ever.
Coming from the rock and roll bruisers who delivered the absurdly sticky "Rise In the Wake," "Beautiful & Tragic," and "Hold Me In Your Arms,"that's a whale of a claim. But nothing about Civilianaires scans as even remotely garden-variety. It's almost as if the new album leveraged all the obsessive musical minutiae the band has been stockpiling in its collective noggin since their kiddo days playing together in small-town Nova Scotia. (They now call the fast-rising cultural hotbed of Hamilton, Ontario home).
And it's not just the sonics that are soaring. The lyrics on the year-in-the-making Civilianaires also carry gravitas, as evidenced by the blistering a git-prop rant (and bona fide rock-radio hit) "The New US," which takes aim at a certain orange-hued world leader, a.k.a. "the little man who isn't home, his little hands arm the drones."
"We've dabbled with politics before," John-Angus MacDonald confirms. "We have a song called 'Gun Control' from our third record (2008's No Time for Later)that refuses to go away because the issue refuses to go away. But who can ignore what's going on now? It's a rage-r of a song about a rage-r of a topic."
Indeed. Still, if there is an overarching takeaway from Civilianaires—apart from the fact that it's a head-spinner from start to finish —it's that The Trews were fearless in confronting potential creative inertia, even if that meant discarding a proven jam-to-studio method that has so far earned near-universal critical acclaim and a heap of prestigious gigs with the likes of the Rolling Stones, Robert Plant, and Bruce Springsteen
Venue:
Huntsville Fairgrounds, 407 Ravenscliffe Rd.
Dates/Times:
August 26, 2021 8:00 PM
August 27, 2021 8:00 PM
Ticket Prices:

Regular $70
Members $65
Plus HST
MEMBERS CALL 705-788-2787 TO PURCHASE
BUY TICKETS

SEASON SPONSOR

SPONSORED BY