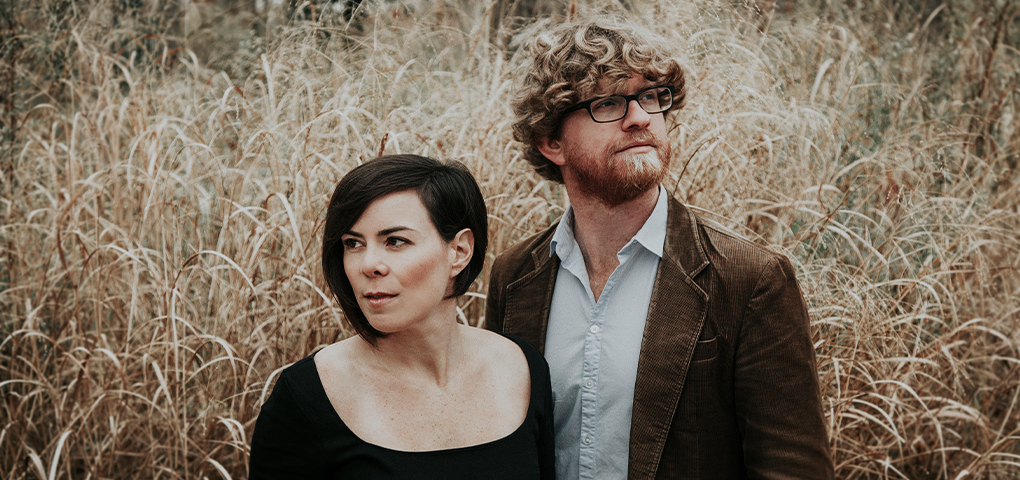 THE SHOW MUST GO ONLINE!
Join us Sunday May 3rd at 4:30pm from the comfort of your own home for some beautiful music making by award winning folk duo The Young Novelists.
The Young Novelists create contemporary folk songs that marry their effortless harmonies with darkly poetic lyrics and exquisitely crafted hooks. Their third album In City & Country features songs about 10 small towns in Ontario, and has been described as "a lush-sounding feast" (Penguin Eggs) and "emotional, melodic music that variously reminds me of the Jayhawks and Richard and Linda Thompson." (No Depression) Their previous album landed them a Canadian Folk Music Award for New/Emerging Artist, a nomination for Vocal Group of the Year, and multiple songwriting awards. They have toured across Canada, the United States, and in Europe, often with their young son in tow. Their signature show features confessional storytelling about their songs and travels, singalongs, and the unique sound of bowed glockenspiel.
WHY YOU NEED TO SEE THIS
This is a special event, not just because of the Young Novelists incredible music, but because of that wonderful feeling of being part of a group (you remember that feeling right?). These live stream performances take place over the Zoom Video Conferencing platform. Once you buy tickets, you'll be sent personalized info on how to sign in to the concert. What sets it apart from regular streaming is the fact that you can have a real face to face interaction with the artists and other audience members. So invite your friends, family, pets, whatever, and join an impromptu online community enjoying uplifting music during troubled times.
We understand that with new software and technologies, you may concerned with security. We encourage you to visit Zoom's Privacy Policy to be well informed if you are considering signing up.
Venue:
Online Zoom Platform
Dates/Times:
May 3, 2020 4:30 PM
Ticket Prices:

$6 (including HST)
BUY TICKETS