Join us on Wednesday, June 21 to celebrate National Indigenous Peoples Day (NIPD) in Huntsville!
There will be live Indigenous music, education, storytelling, arts and crafts market vendors, and the Sacred Strength: Indigenous Ribbon Skirts exhibit. This celebration is free and will take place in River Mill Park starting at 4:00 pm and continues into the evening. NIPD is a special day to learn about the unique heritage, diverse cultures, rich traditions and important contributions of First Nations, Inuit, and Métis peoples in our community.
4:00 pm – Vendor Market
Come and see a diverse group of artisans and educational exhibitors. You'll have the chance to buy local Indigenous arts, crafts, and other products while learning about cultural heritage and unique artistic techniques. This vendor market is a way for the community to support Indigenous entrepreneurs and learn more about their traditions.
4:00 pm – Sacred Strength: Indigenous Ribbon Skirts exhibit presented by Hope Arises Project Inc.
Visit the Huntsville Festival of the Arts Studio (58 Main St. E) to see a display of ribbon skirts presented by Hope Arises Project Inc., an Indigenous-led not-for-profit organization in Huntsville. Ribbon skirts are a symbol of identity, strength, and protection. Today, ribbon skirts are worn to signify dignity, respect, and honours the many Indigenous women who have gone through pain and suffering in the past. Following National Indigenous Peoples Day, the display will move to the Canada Summit Centre from July through to October as part of the Indigenous Story Skirts Art & Culture Exhibit.
Live Entertainment
5:00 pm – R&B singer-songwriter Sebastian Gaskin will open the live entertainment for the evening on the stage at River Mill Park. Gaskin grew up in Tataskweyak Cree Nation and has since gone on to win the 2021 Western Canadian Music Award for R&B Artist of the Year, the 2021 Kevin Walters Songwriting Award, and headlined a cross-Canada club tour. Gaskin's music is influenced by their tastes in R&B, Hip Hop, Metal, and Punk.
6:30 pm – JUNO award-nominated Shawnee Kish will perform at the River Mill Park stage. Shawnee is a proud Two Spirit Mohawk who has shared the stage with some of the world's biggest names – Lady Gaga, Madonna and Alicia Keys to name a few. Shawnee has been influenced by strong, confident female performers and works to empower youth, providing strength and hope through music. Her deeply personal and always poignant lyrics are rooted in healing, and allowing both herself and her listeners to find purpose and reason in the stories she tells.
As this is an outdoor event, please bring a picnic blanket or chair for the live music. A water refill station is being provided so be sure to bring a refillable water container.
In the event of a heavy rain forecast, the event will relocate to the Algonquin Theatre, and details will be posted on the Town of Huntsville news and social media channels. For more information on Huntsville's National Indigenous Peoples Day event schedule, directions or public parking, please visit Huntsville.ca.
This community celebration has been organized through a special collaboration between the Town of Huntsville, Huntsville Festival of the Arts, Hope Arises Project Inc., and Huntsville Public Library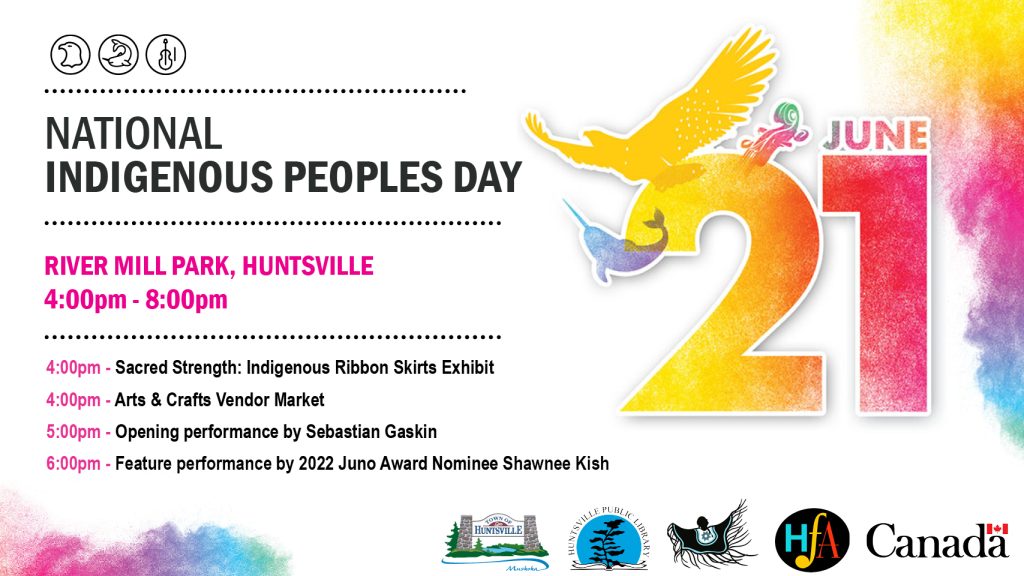 RIVER MILL PARK
June 21, 2023 4:00 PM