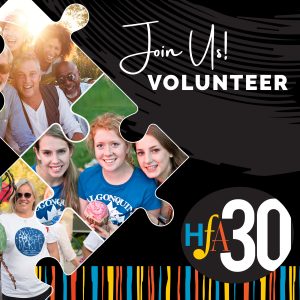 Do you love art & music? Do you want to contribute to your community? Volunteer with Huntsville Festival of the Arts and be part of a great team!  We are looking for a variety of volunteers to help with our summer season. HfA supports diversity and inclusivity- all are encouraged to register!
Distribution Volunteer:
Volunteers on the move! If you love being out and about, meeting new people and getting some fresh air while you're at it, this is the volunteer role for you.  We need motivated volunteers to help distribute our summer season fliers, posters, and other promotional materials to local businesses in and around Huntsville.
Membership/Information Volunteer
Are you excited about our summer season? We are too! Help us share our summer line-up and membership information with the public as a Membership/Information Volunteer.  This role is perfect for an arts-and-culture lover who loves meeting new people.
Backstage Volunteer
Get backstage access to your favourite shows! We need energetic, team players to help our visiting performers at Algonquin Theatre set up and break down their equipment and gear. If you enjoy being a part of the behind-the-scenes magic, this might be the volunteer role for you- plus, when the work is done, you get to sit back and watch the show!
Outdoor Event Support Volunteer
Art in the open air- it doesn't get much better than that! Similar to the Backstage Volunteer, this is a chance to help create some magic, plus enjoy the outdoors! We need energetic, team players to help install and break down our outdoor events- this is an all-access pass to summer festival fun.
For more information or to register visit huntsvillefestival.ca/volunteer or call 705-788-2787.